今と呼ばれます
+39 392.6106060
20.10.2016
Harvest 2016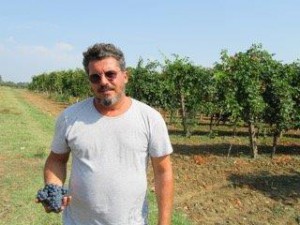 " This is a very good year!
Consider the nice wind in the morning that we named GARBINO ( which means …a kind of gentle), consider the wonderful summer, very hot during the day and fresh and cold in the night, good for the grapes.
If we exclude some nasty rains, everything has been perfect!
Today we have picked the Pagadebit ( our white native grapes), we will continue for few days more, then we will go back to the hill to gather the sangiovese (red grapes).
I will leave ROW 15 (cabernet) for the next week … "
That's Davide speaking, and today it is a great day.
He is so happy and shiny!
He grabs some grapes from the plant and says to me:
"Taste it! It's gorgeous! It's a good year because the scents and the body of the wine is all here!"
For lunch we have homemade pasta and meatballs with peas. There is a long table in the middle of the farmyard and his mother Loredana is cooking.
If you come now to visit us during the harvest, you will see these 15 men, coming back from the field.
They all look like warriors. It's very hard working for 8 hours a day. They sit at the table and laugh for nothing, it's a very peculiar moment. They spend one hour, chilling out and drinking, then they go back to the fields.
Watching them reminds me the summer camp time, funny they are! Then everybody goes back to work until evening.
Last night we had some tastings from the tank: interesting wines, beautiful projects I would say, some of them talk about tradition others about future.
Here there are some important news and we'll be happy to give you a preview in December!
This is a magic period, it's a tough and wonderful at the same time, forget the romantic vision and the funny moments…this is a very tough moment.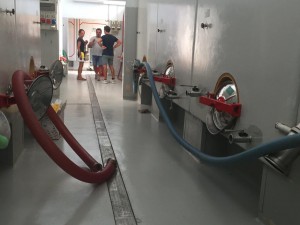 I mean that it is the most important moment of the year and just in this month you have to be careful to everything. The cellar, the weather forecast, the tasting.
It's like imagine the future of a grape.
From this moment on you have all the projection of the year to come…that's why we used to say that the harvest is a sort of new year grape's eve!